Pool Renovation
---
(click on the thumbnails to view larger)

Pool Renovation Services:

Replaster pool interior surfaces
Tile removal and replacement
Coping removal and replacement
Vinyl liner replacement
Deck, wall and walkway removal and replacement
Structural repairs: gunite and vinyl
Step repair or installation
Waterblasting services
Equipment replacement / upgrades
Cover solutions: automatic, safety or solid
Redesign: Add a spa, water feature and more...



Contact American Pool Service for a renovation quote


American Pool Service offers the quality and reliability that only an established company can provide. American Pool Service can restore your swimming pool and hardscape to a retreat that you will enjoy for years to come. Renovations help to ensure safety, lower maintenance and will extend the life of your pool.



Water Blasting: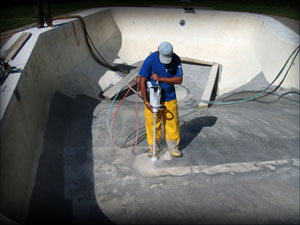 The interior of a pool may develop loose paint or flaking plaster over a number of years. For a gunite pool interior renovation, we must remove all the loose particles before applying a new layer of plaster or pebble finish. High pressure water blasting ensures a bondable surface for your new plaster without the use of harmful chemicals. Using high-pressure water jets, our skilled technicians will remove the flaking paint or plaster layer without risk to the structural integrity of your swimming pool. After the loose particles are removed, your pool is now ready for the pool plaster or pebble finish application.